Study: It's time to wake up and mobilize!
View our Mobile Infographic
TailoredMail examined over 150 million emails, from 2000+ clients worldwide, between Aug '11 to Sep '12. The results are nothing short of astounding; mobile devices are changing the face of email marketing so fast that most marketers aren't even aware of the potential ramifications.

Share this:





Print this:
---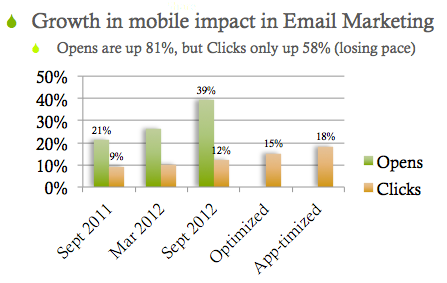 Mobile Device share of email opens is up by more than 85% in the last year, however, click-thru-rate are relatively flat. When we optimize emails-for-mobile-devices (through responsive design), we find the click-rates grow by more than 30%. Further, if we use "Email-Apptimizer", those click-through rates often exceed 50%.

Important: mobile device share-of-opened-emails will likely exceed 50% soon. That means the value of your email-marketing investment is likely becoming LESS effective. Time to address it NOW and be a market leader in the mobile space.


---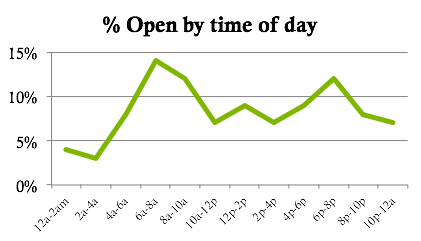 We found three "spike" periods where mobile users opened/clicked most-often over a 24 hour period. Essentially; breakfast, lunch and right-after-dinner. This supports the long-standing belief that (for better or worse) the first and last thing we do in our day is....check email. Now that we have this handy constant mobile-companion in our pocket, it makes it really easy to perform that habit.
Important: Look to use an email solution that can automatically send emails at a specific LOCAL time for each user. Rather than, say, send to EVERYONE at 7am your time, how about sending the email to each subscriber at 7am THEIR time? This can achieve greater response rates for mobile users.
---
Despite having a commanding marketshare of users, Android only represents 21% of all opens and clicks. Keep in mind that Apple devices turn images 'on', by default - which can skew the numbers. iOS (Apple) devices represent 77% of all opens and clicks, with a surprising 11% of those coming from iPod's.
Important: as an email marketer, it's simply not important at this time to worry about optimization and engagement for devices other than Apple, Android, and the fast-growing (albeit only 2% in September 2012) Kindle Fire.
---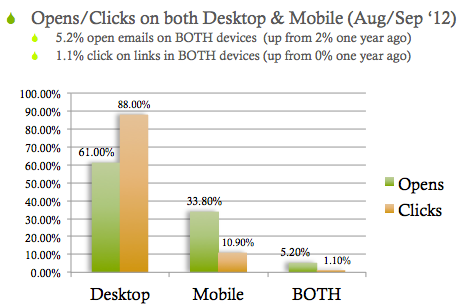 One of the unknowns in email marketing and mobile devices was the following; do users read email on their smartphone, and then potentially read it AGAIN on the desktop? We found that 5% of mobile readers also opened and clicked again on their desktop device (that number has been growing each month).
Important: This supports the strategy to develop more of a responsive design in email layouts - as opposed to "mobile first" approach. A/B testing is critical here for your organization to see how YOUR audiences respond.
---
Interestingly, we found that MEN opened more emails (as a percent of total men), and WOMEN clicked more often (as a percent of total women).

Important: Businesses should consider capturing gender information on sign-up-forms so that they can better target content to their audience.
---
If you have any questions, comments - please notify us at 1-425-451-4770.