TailoredMail offers a completely customizable interface for you to offer your resellers, partners, salespeople, offices (any entity that you wish to empower with your content) a "do-it-yourself" emailing solution. You populate the content or promotions, and they step through a simple wizard to create and send the emails to their lists.

This is one of the most unique offerings on the market. It provides tremendous competitive advantage by empowering the people closest to the customer.

Key Features:

Gives your partners as much or as little functionality as you want, but in a dead-simple point-and-click wizard.
Load it with a complete content-library, segmented by industry, product, promotion – however you want. Content is automatically matched to each partner. For example, if you have resellers who market only one of your products, then the content library they see is ONLY for that product. You can segment this any way you wish.
Lists are privately hosted by TailoredMail, giving your partners the security they need to push your content, but not worry about exposing their customer lists.
Roll-up reporting for you to see how successful your content is with specific clients, or as a whole.
Partner gets detailed reporting results automatically emailed to them.
Set up ANY business rules you want- such as the maximum number of sends, minimum number of articles they must use, limits to how much of heir own content they can include, etc.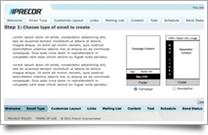 Resellers log into YOUR
branded application and
create newsletters and
campaigns to THEIR clients
with turnkey content libraries
of your making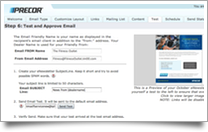 Partners lists are kept private
but you get roll-up tracking
reports and can set dealer
rules and requirements